Description
Exercise Book Printing in Nigeria
We are the top Exercise book printing company in Nigeria supplying to several schools across Nigeria. We also print Prospectus, folders and other printed materials needed in schools. A wide variety of writing exercise book options are available to you, such as promotion, gift. You can also choose from 40 leaves, 80 leaves writing exercise book, as well as from notepad, diary, and organizer/planner writing exercise book, and whether writing exercise book is printed, spiral, or hardcover.
About Exercise Books
According to Wikipedia, an exercise book or composition book is a notebook that is used in schools to copy down schoolwork and notes. A student will usually have a different exercise book for each separate lesson or subject. The exercise book format is different for some subjects: for the majority of subjects, the exercise book will contain lined paper with a margin, but for other subjects such as mathematics, the exercise book will contain squared paper to aid in the drawing of graphs, tables or other diagrams.
Exercise books may act as a primary record of students' learning efforts. For younger pupils, books are often collected at the end of each lesson for review, scoring or grading. Loose worksheets may be pasted into the book so that they are bound with other work. In some schools, exercise books may be colour-coded depending on the subject. For example, Biology might be green and Algebra blue.
Exercise Book Design
Our approach to producing school exercise books may be slightly different to many other suppliers as we concentrate on designing and producing eye-catching school exercise books that continue and compliment your existing school branding.  Whether we have designed your school logo or you have sent us your existing logo, our design team will create professional looking books with your logo and other design elements on both the front cover and on the back cover.  We can also include details unique to your school like a school motto, mission statement or key words.  Inside cover printing is also available with presentation rules, pupil targets and tick boxes being among the most popular items.
Exercise Book Rulings
Typically we can print the exercise books in either 20 leaves, 40 leaves 0r 80 leaves, although sometimes we can produce a bespoke amount of pages. We have a number of standard rulings which span a wide range of subjects and key stages.  If there is a specific ruling you require, we can make these up as a special ruling and print as a special ruled book.  These do cost slightly more than our standard books.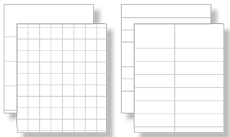 Do you have a school and you would want to print exercise books in 20, 40, 60, 80 leaves? We also print Higher Education Notebooks. Give us a call today for Quality Printing and Quick delivery to your school.